GPAT - The Global Polypectomy Assessment Tool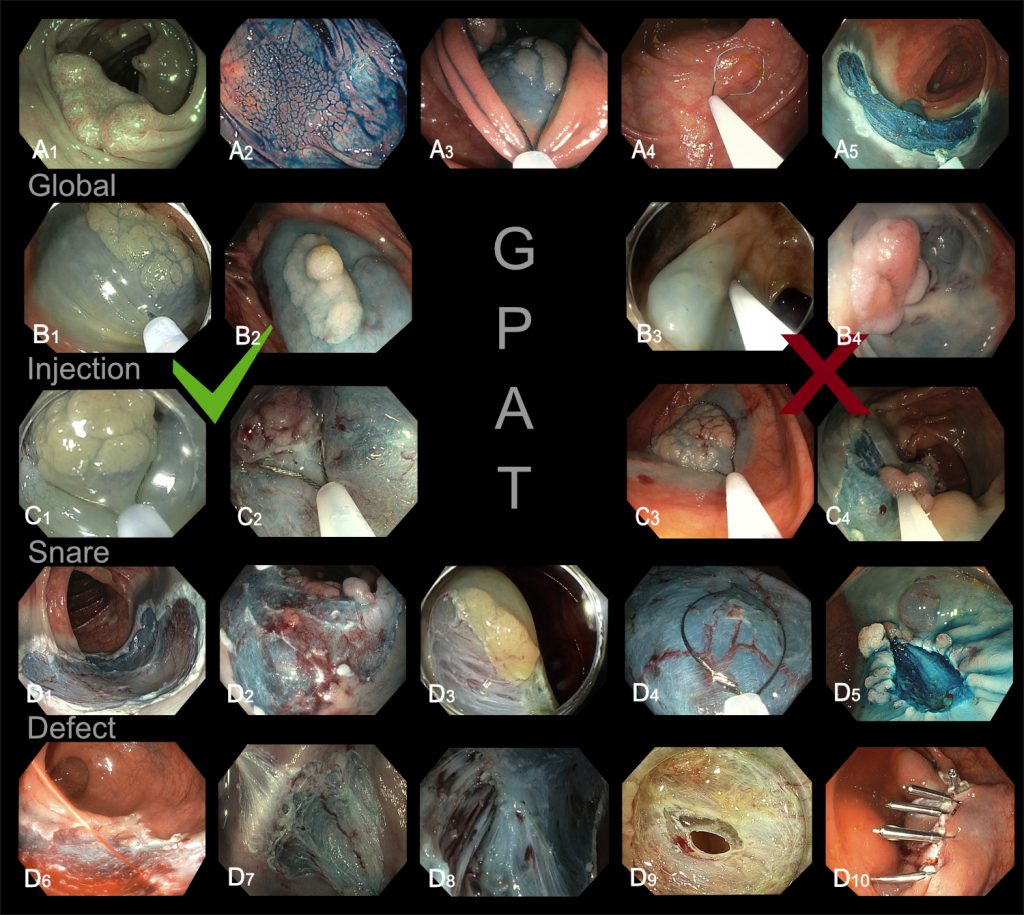 A tool to revolutionise the assessment, structured feedback on and quality of polypectomy.
What is GPAT?
GPAT is a freely available, web-based assessment tool for Colorectal EMR based upon the upcoming curriculum for EMR from the ESGE.
GPAT provides multiple outputs to give insight into proficiency at polypectomy, whilst respecting the fact that competency and training are very dependent upon the difficulty of the polyp being attempted.
To this end all GPAT outputs are stratified by validated instruments to determine the difficulty of polypectomy (namely the SMSA score (1,2) and the SMSA + score (3,4)).
Unlike other scoring systems the GPAT is specifically designed to be applicable to all types of colorectal polyp. Whilst we develop GPAT outputs for cold snare (diminutive) are limited as are those for pedunculated polypectomy. Development of these will occur over time.
How can I use GPAT?
To make use of GPAT you need a GIEQs.com account. This is freely available and an account can be created by clicking the button above.
GPAT is completely free to use.
What are the main benefits of GPAT?
A series of screenshots from GPAT are below. The main benefits are explained below each image.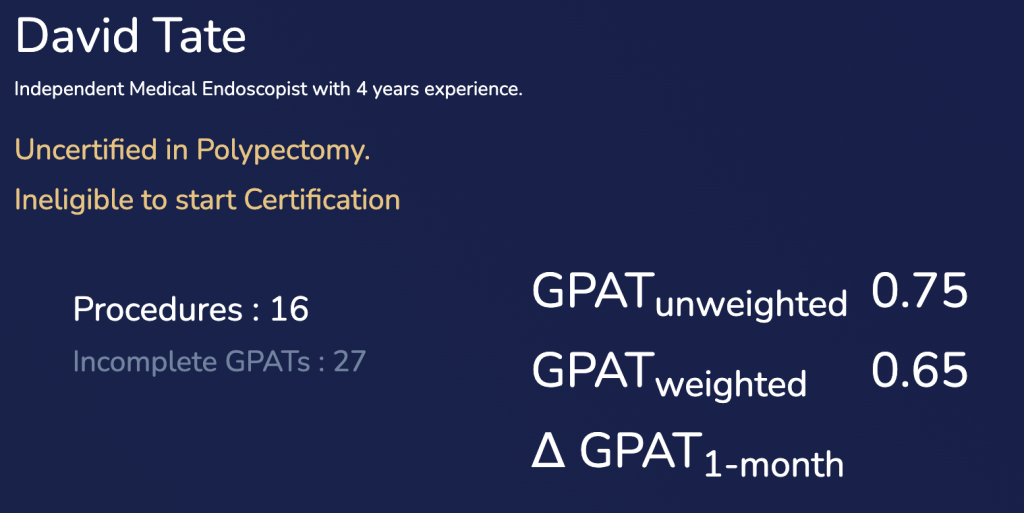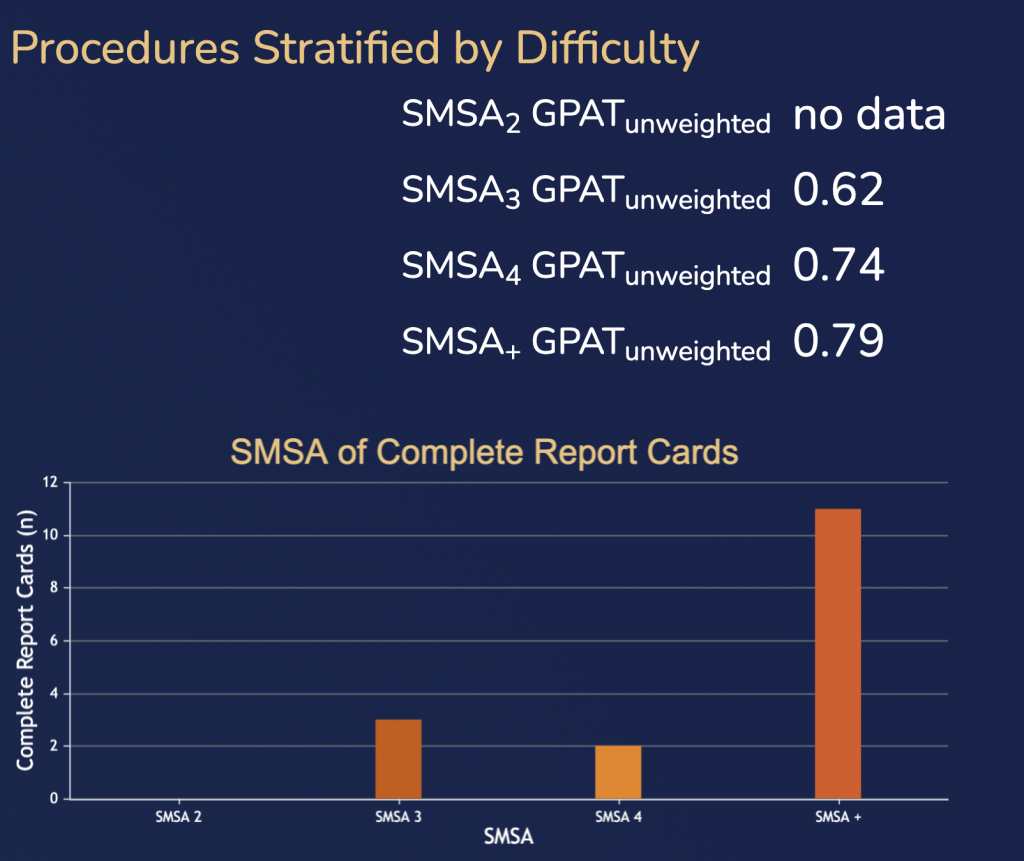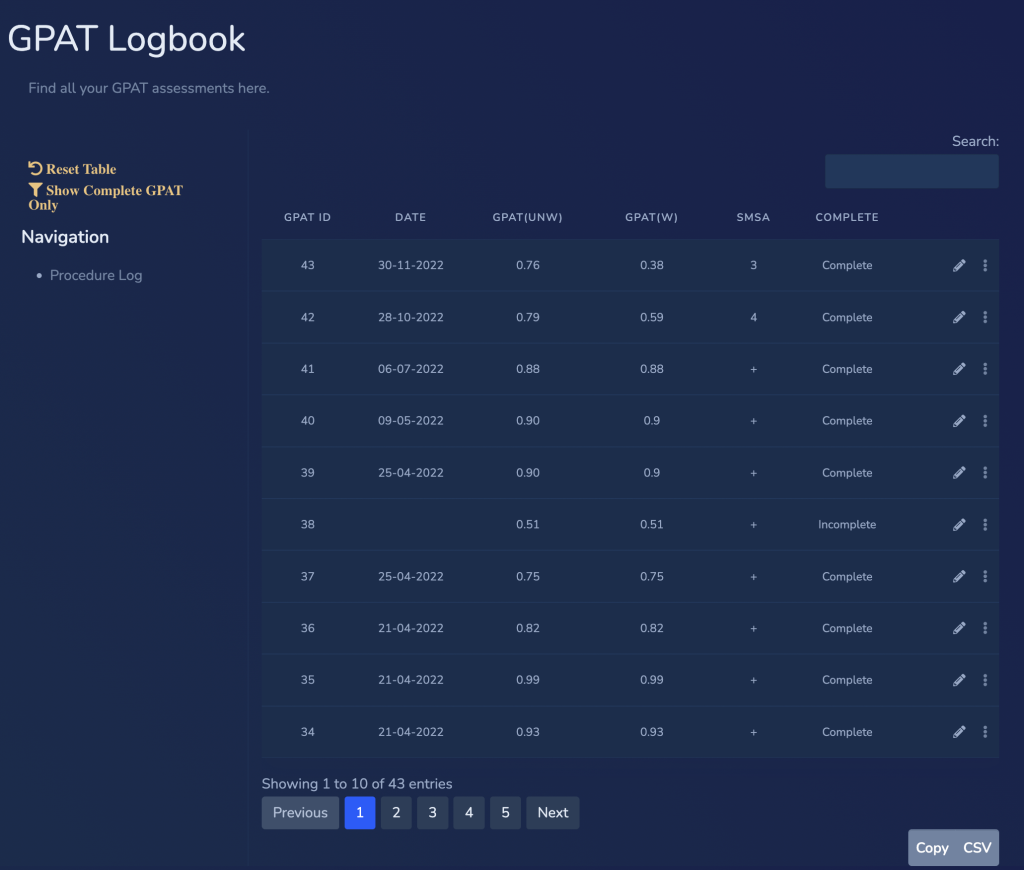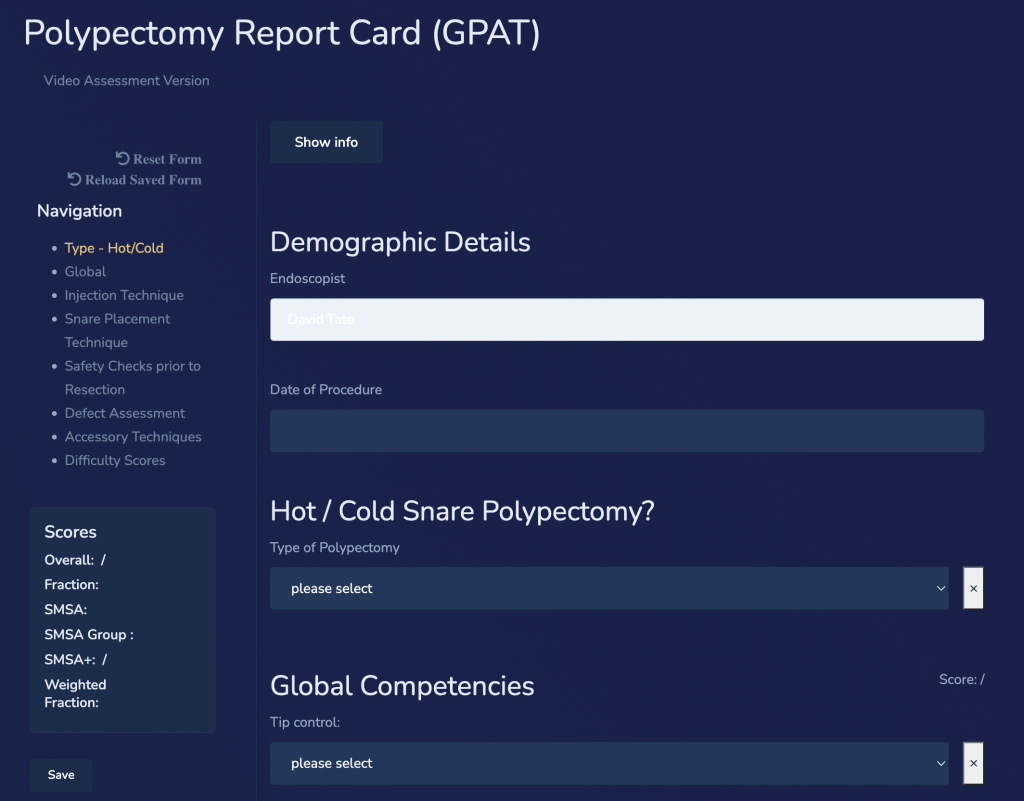 References
1 SMSA Score — Gupta S, Miskovic D, Bhandari P, Dolwani S, McKaig B, Pullan R, Rembacken B, Riley S, Rutter MD, Suzuki N, Tsiamoulos Z, Valori R, Vance ME, Faiz OD, Saunders BP, Thomas-Gibson S. A novel method for determining the difficulty of colonoscopic polypectomy. Frontline Gastroenterol. 2013 Oct;4(4):244-248. doi: 10.1136/flgastro-2013-100331. Epub 2013 Jun 1. PMID: 28839733; PMCID: PMC5369843.
2 SMSA in Larger ≥ 20mm LNPCPs — Sidhu M, Tate DJ, Desomer L, Brown G, Hourigan LF, Lee EYT, Moss A, Raftopoulos S, Singh R, Williams SJ, Zanati S, Burgess N, Bourke MJ. The size, morphology, site, and access score predicts critical outcomes of endoscopic mucosal resection in the colon. Endoscopy. 2018 Jul;50(7):684-692. doi: 10.1055/s-0043-124081. Epub 2018 Jan 25. Erratum in: Endoscopy. 2018 Jul;50(7):C7. PMID: 29370584.
3 SMSA+ score (expert opinion) — Anderson J, Lockett M. Training in therapeutic endoscopy: meeting present and future challenges. Frontline Gastroenterol. 2019;10(2):135-140. doi:10.1136/flgastro-2018-101086
4SMSA-EMR score (data driven, abstract only) — SMSA-EMR SCORE IS A NOVEL ENDOSCOPIC RISK ASSESSMENT TOOL FOR PREDICTING CRITICAL ENDOSCOPIC MUCOSAL RESECTION OUTCOMES – Volume 87, No. 6S : 2018 GASTROINTESTINAL ENDOSCOPY AB467